It´s not just one event, it´s a whole year program! Connect. Get Mentored. Get Inspired. Join the Mentoring Movement!
About this event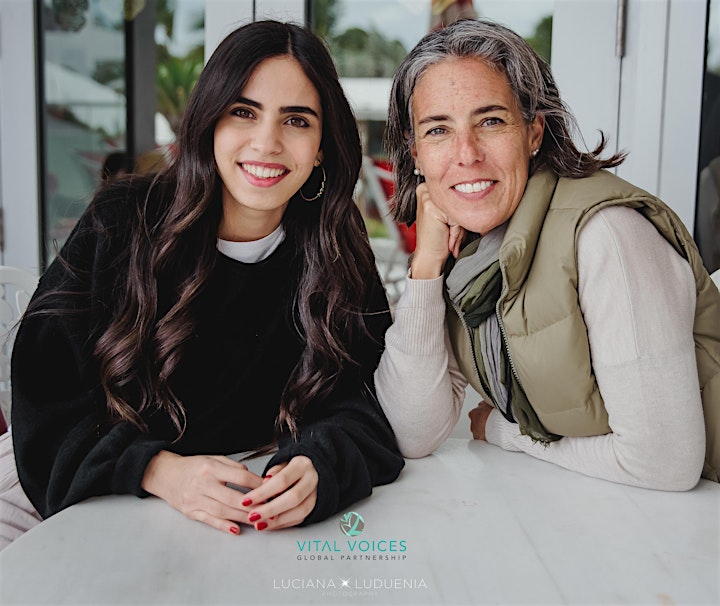 The annual Mentoring Walk brings together established and emerging women leaders to walk | talk together in their community.
The 60-minute walk | talk consists of a dialogue between the mentor and the mentee, where both engage in the reflection of their professional and personal challenges and successes. As they walk|talk, they establish a mentoring relationship in which the mentor guides, advises and supports the mentee, building a new generation of leaders who could unlock some of the most pressing problems facing their communities.

Learn more here: www.vitalvoicesmiami.org
It is the only time during the year that we offer our Mentoring Walk along our exclusive Vital Voices Miami-WE Evolution Annual Program 2022, all in one value-packed bundle.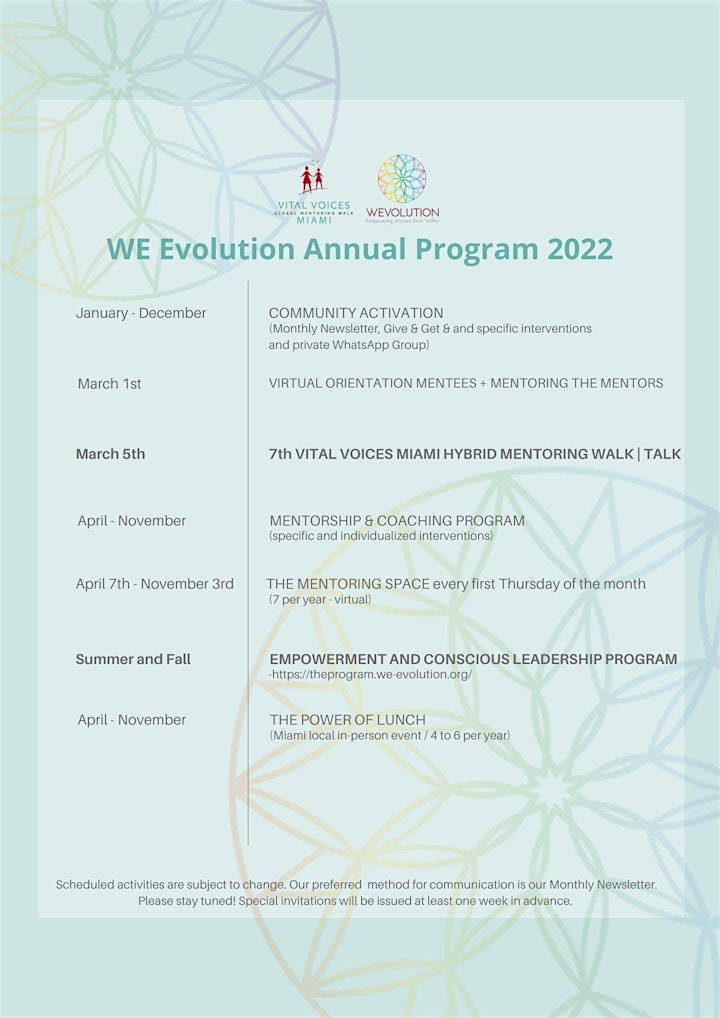 JOIN THE COMMUNITY!
Kickstart your 2022 energized and keep it out throughout the year making amazing connections and investing in your personal and professional growth.
Vital Voices Miami – WE Evolution is all about community and our ability to get together as women, transform ideas into action, give and get support and create magic!
Don't delay another year – let 2022 be your year of Empowerment!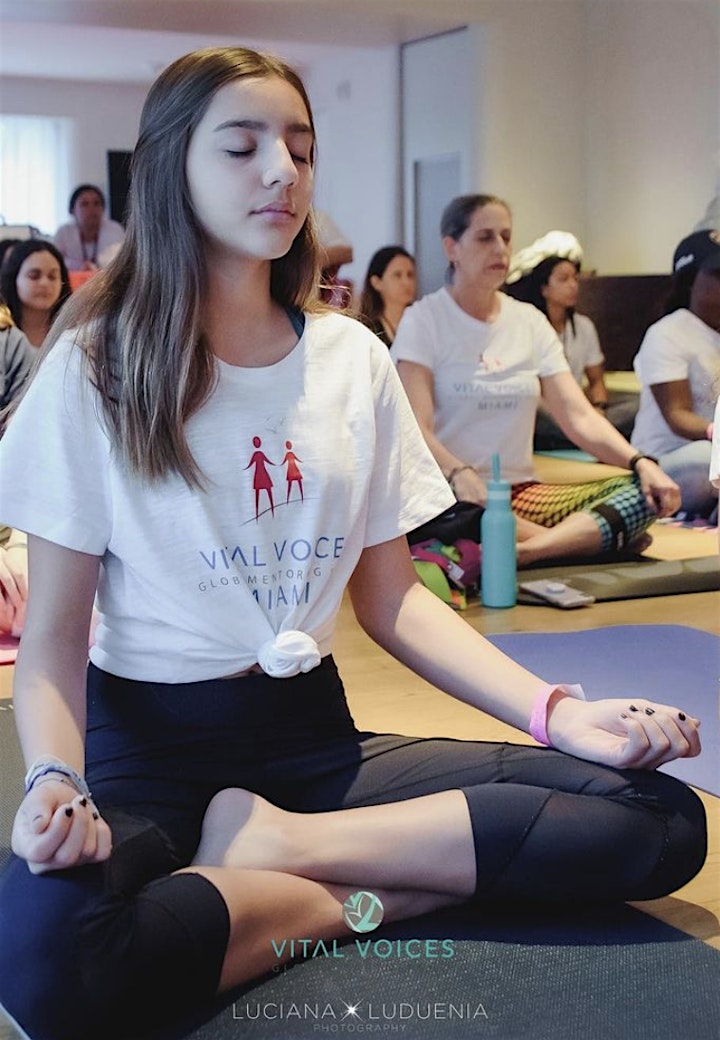 Join us today before space runs out!
You can register as a mentor or as a mentee.
Students get free access when they apply for a scholarship at team@we-evolution.org
Applications are due February 18th or when spaces run out!

LAUNCHING OUR HYBRID FORMAT IN 2022!
In 2021, we pivoted and carried out the virtual global mentoring walk. Many women outside of Miami, from other cities or countries, were able to participate, so we decided to launch a hybrid modality this year. Always the more the merrier!
As of now, we are planning for a hybrid event, in person at the Faena Hotel and virtually via Zoom. We reserve the right to hold the event only virtually depending on the information available about COVID at that time.
A PEEK AT THE GLOBAL VIRTUAL MENTORING WALK 2021
A PEEK AT VITAL VOICES MIAMI MENTORING WALK 2020
🎥Credits: @lemonmediaprod @rociosanudolimon
Hear what our members have to say:
"One of the best things about Vital Voices Miami is the community. When you join, you will be welcomed into a supportive community of soul-led entrepreneurs from all corners of the globe who are committed to working their light and rising alongside you. We all need support on our path, and in my experience, connecting with people who really get us and have our best interests at heart can make all the difference to our motivation and rate of growth."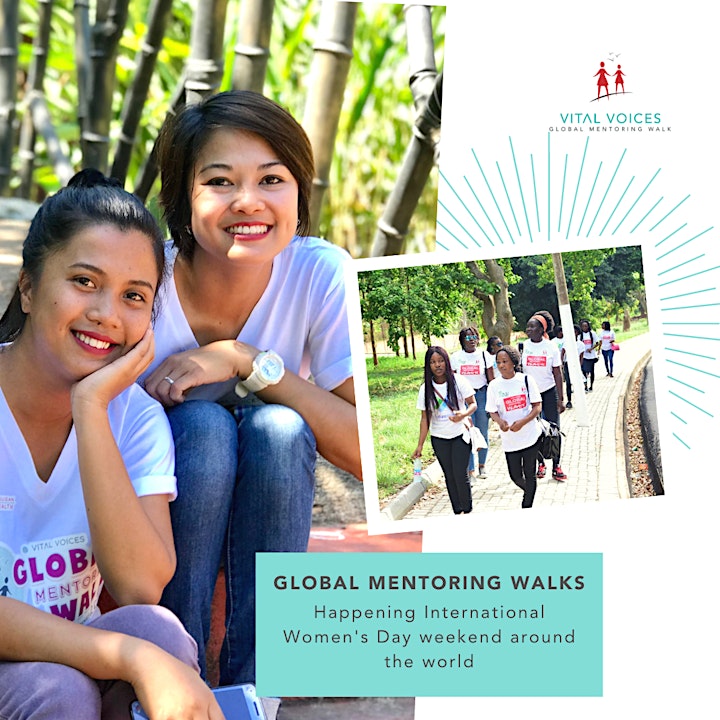 GET READY WITH YOUR VITAL VOICES MIAMI SWAG!
You are a Vital Voice, use your power to empower!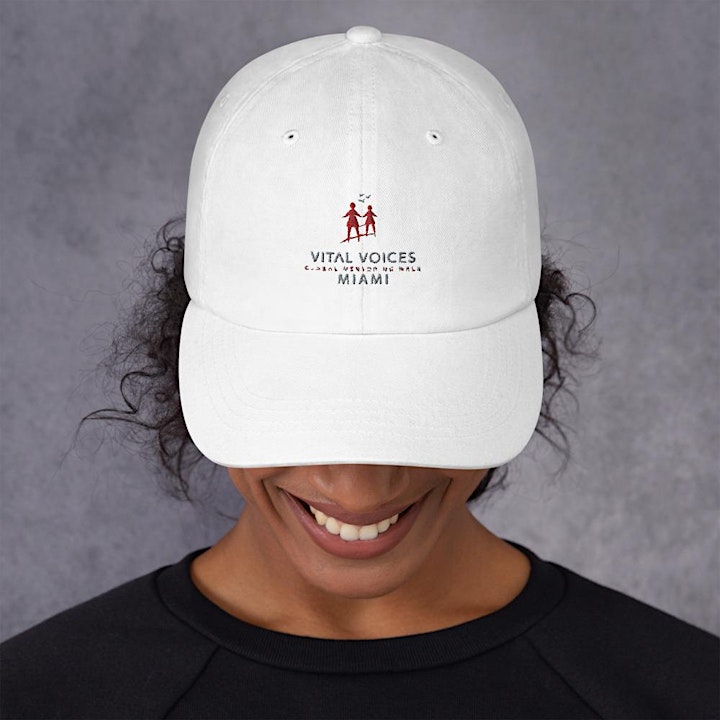 Become an ambassador of our empowering and supportive network while using your favorite products.
Each purchase is a donation to Vital Voices Miami to help us continue empowering women leaders committed to advancing women's leadership in South Florida and Latin America.
FAQs
Do I need to walk?
You do not need to walk during the whole event. The "walk" consists of a conversation that can be done seated if you are in-person. If you are joining us virtually, the conversation will be held via video.
Can I attend if I am not in Miami?
Yes, this is hybrid event, you can participate online from the comfort of your home or office.
Can I choose a mentor in Spanish or English?
Yes, this is a bilingual event you can choose to participate and pair with a Spanish-speaking or English-speaking partner.
How are mentors paired with mentees?
Mentees are paired with mentors with similar personal and professional interests so that the latter may provide tailored and useful advice. Tip: be sincere in your application.
What happens if my mentor is not able to attend?
No worries! In case your mentor is not able to attend the Walk, you will always have the opportunity to receive mentoring, you could be offered a Mentoring Circle with other 2 members or have the opportunity to offer Reverse Mentoring.
What benefits come with my ticket?
By applying to the Mentoring Walk, you will have the opportunity to automatically become a WE Evolution Member, enabling you to take advantage of its memberships' numerous unique and door-opening opportunities. To obtain more information about silver WE membership benefits, visit https://we-evolution.org/
Thanks to the invaluable support of our partners and members: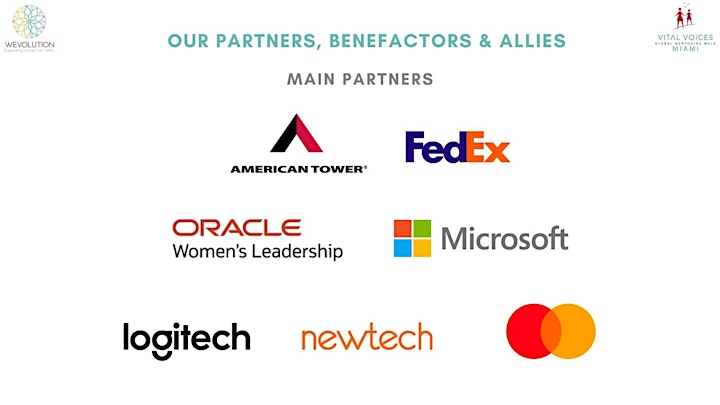 FOLLOW US!
WANT TO LEARN MORE ABOUT US AND SUBSCRIBE TO OUR NEWSLETTER?
By signing up to the event, I hereby release and discharge WE Evolution Corp | Vital Voices Miami of the total cause of action of claim for damages I now have or may hereafter possess against all parties responsible for my damages. I acknowledge the release of Vital Voices and all other persons or corporations involved from any liability claims, damages, causes of actions related to physical injuries or consequences of such injuries, including damages resulting from any accident or injury at this event or by participation in the event. I also consent that there will be use of photography or video and footage may potentially be taken of me at this event to be used in promotional or other materials.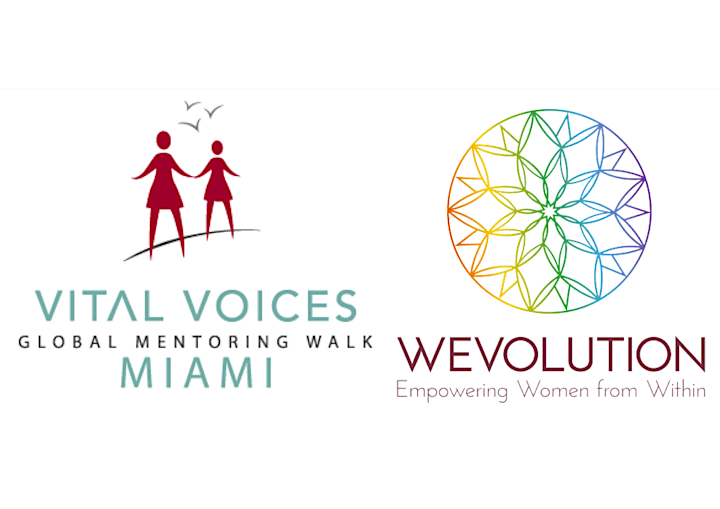 Date and time
Sat, March 5, 2022
8:30 AM – 12:30 PM EST
Location
Faena Hotel Miami Beach
3201 Collins Avenue
Miami Beach, FL 33140
Refund policy
Organizer of Vital Voices Miami Hybrid Mentoring Walk|Talk + WE Evolution Program 2022
WE Evolution is a 501 c3, whose mission is to inspire women to unveil their true voice and full power, expand dynamic networks of women leaders and promote conscious leadership into the world.
WE Evolution is the Chapter of Vital Voices Global Partnership in South Florida, USA and the organizer of the Vital Voices Miami Global Mentoring Walk.
Visit our site https://we-evolution.org/ | https://vitalvoicesmiami.org/
For any additional questions, please e-mail team@we-evolution.org.
IG: @weevolution, @vitalvoicesmia
FB: | Vital Voices MIA